True Romance - Film Inspired Poster Design Exhibition 6-17th February 2015
Posted by Helen Edwards on 3rd Feb 2015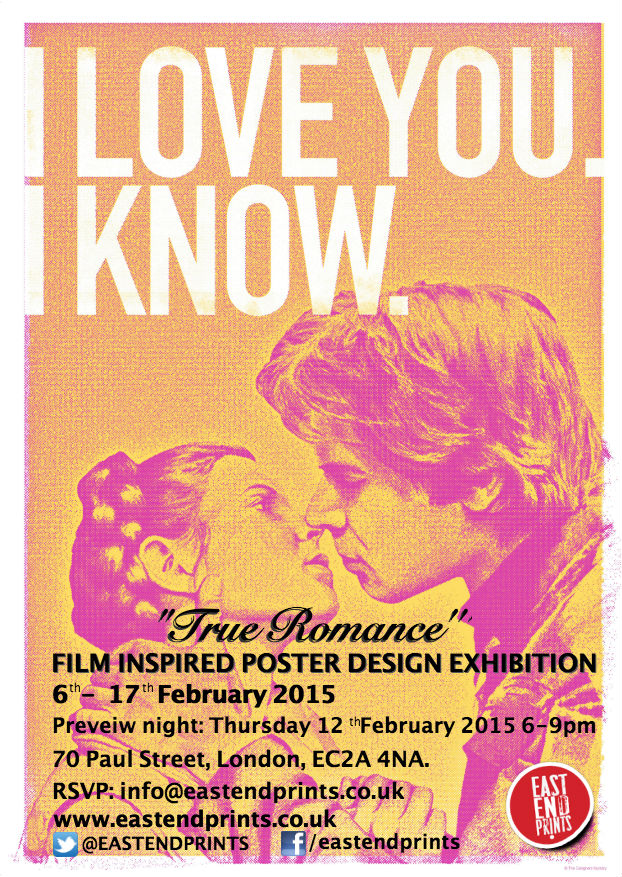 EAST END PRINTS Presents..."True Romance"
Film Inspired Poster Design Exhibition
For immediate release –Tuesday 3rd of February2015
'True Romance'– 6th -17th February 2015 London
EAST END PRINTS, is celebrating our TRUE ROMANCE with filmin our film inspired poster design exhibition.New collaborators from around the globe have jumped in to celebrate with us, Rocco Malatesta (Italy), The Designer's Nursery (U.K), Pedro Vidotto (Brasil), Printer of Dreams (U.K), Pine Pixel (Greece), Jay Fleck (U.S) & Minimal Prints (U.K) and we are thrilled to show you their amazing works.
Our very own, Chris Wharton, Dale Edwin Murray, Rich Fairhead, Christophe Gowans and Francesca Ianaconne have also prepared something special for the event.
"Here at East End Prints we provide a platform to promote and showcase the work of international artists and designers. Film has the ability to bring together universal themes such as love, death power, judgement, family and heroism. TRUE ROMANCE, the exhibition offers a unique opportunity to see all this work under now roof in East London"
Helen Edwards owner of East End Prints
Brand new alternative film posters inspired prints and editions from existing artists from our catalogue as well as a selection of romantic themed artworks for your viewing pleasure (or asa last minute gift because you forgot, again!)
EAST END PRINTS is also pleased to present Amelia's Magazine 10th anniversary limited edition GOLD prints.
These stunning A2 and A3 gold leaf fine art prints are based on the theme of That Which We Do Not Understand: Mysticism, Spirituality, Alchemy, Paganism, Witchcraft, Herbalism, Shamanism, Magic, Voodoo, Folklore, Occult, Esotericism, Tarot, Astrology, Animal Spirits, Paranormal activities and much more. Very limited to 10 of each and very gorgeous in all their GOLD glory.
A teaser film is right here ...
True Romance, Film Inspired Poster Exhibition Slideshow - East End Prints
'True Romance' Film Inspired Poster Design Exhibition
Running from 6th–17thFebruary 2015
Monday to Sunday 10am - 6pm.
Preview night: Thursday 12thFebruary 2015 Late night opening with a romantic theme 6-9pm
Join us for a glass of wine and cake at Paul St!
Be great to see you!
70 Paul Street,London,EC2A 4NA
Please contact info@eastendprints.co.uk